Aquarius Swim School offers swim lessons for babies, from the age of 8 months, through to adults. The lessons are conducted in a private indoor heated pool, by instructors with many years' experience.
The toddler program is a group lesson, consisting of toddlers, parents and an instructor. All other ages and capabilities are catered for by one-on-one private individual lessons. The swim school is open all year round, including December holidays.
Social

Responsibility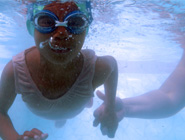 Maranatha Children's Home
Aquarius Swim School offers 22 children, from the Siyakhatala Centre for street children, swimming lessons free of charge. The Siyakhatala Centre forms part of the Maranatha Street Workers Trust.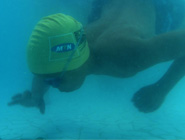 Swimming lessons are giving a much needed boost of self-esteem and life skills to this group of former street children. Cathy Norman, owner of Aquarius Swim School, has been teaching these children since 2010. Some of these kids took part in Pritt Iron Kids in 2012!
Read more